Are you looking for the best Seward Alaska tours out there? Well, this tour is a great way to see Seward in a day, especially for those without transportation.
| | |
| --- | --- |
| Adult | $189 |
| Child (2-12) | $94.50 |
| Infant (0-2) | Free |
| Duration: | 6 Hours |
| Location: | Seward, Alaska |
| Departure: | IdidaRide Sled Dog Tour's Gift Shop |
| Start Time: | |
| Dates: | Late May – Mid September |
Real Alaska Dog SleddINg Tour Info
Our Real Alaska tour is a great way to see the beautiful and historic Seward in a day, especially for those without personal transportation.
Your guide will begin by showing you the sights of Seward, Alaska, known as "the Gateway to Alaska" and "Mile 0″ of the Iditarod Trail. Seward resides at the base of Mt. Marathon, the setting for the second oldest foot race in the United States, and still contains evidence of the great 1964 Earthquake.
Afterwards your guide will take you to Exit Glacier, a frozen river spilling out of the Kenai Fjords National Park. A short walk on the nature trail takes you to the face of the glacial ice. Along the way, keep a watch for mountain goats, moose, or bear that live in the forested mountains.
Salmon spawn during the summer months, meaning they swim upstream to reproduce. You'll be able to watch them navigate a channel on the way to their spawning grounds.
Also included is a hearty lunch at a local restaurant to nourish you before you embark on the Ididaride's 1.5 hour Wilderness Dog Sled Ride and Tour, in which you'll mush champion sled dogs and hold puppies.
The day's adventures end with your driver returning you to your hotel, cruise shop, or the Alaska Railroad depot. All expenses are included in the tour price.
Frequently Asked Questions
Book Your Real Alaska Dog Sled Tour
Searching Availability...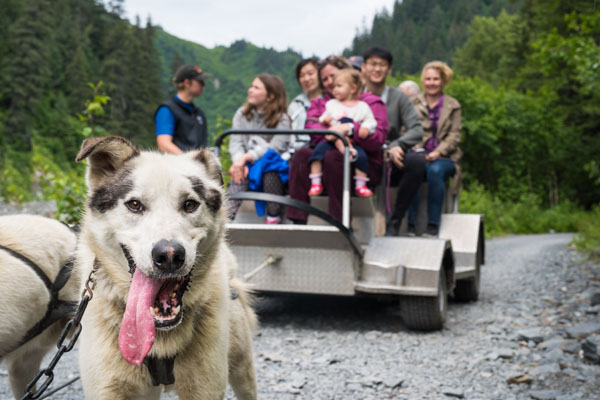 Wilderness Dog Sled Tour
Feel the power, excitement, and energy of our amazing sled dogs as they are harnessed to our comfortable wheeled sleds on this hour and a half dog sled tour.
Adult (13 +)
$99
Child (2-12)
$49.5
Infant (< 2)
Free
Duration:
1.5 Hours
Location:
Seward, Alaska
Departure:
Seavey Family Homestead, Exit Glacier Road
Start Time:

9:00am

11:45am

1:30pm

3:15pm

6:30pm

Dates:
May 9 – Mid September
Glacier Dog SleddINg
Take an adventure on one of Alaska's Glacier, meet puppies, and ride in a dog sled on these exciting tours.
| | |
| --- | --- |
| Adult | $519 – $579 |
| Child (2-12) | $479 – $529 |
| Infant (0-2) | Please Call |
| Duration: | 1.5 Hours |
| Location: | Seward, Alaska or Girdwood, Alaska |
| Departure: | Seward Airport – Apline Air |
| Start Time: | Various Start Times (Unique to location) |
| Dates: | May 31st – August |