Seward Alaska Glacier Dog Sled Tour
TAKE AN ADVENTURE TO ALASKA'S 4TH OF JULY GLACIER IN GIRDWOOD ALASKA
Adult
$519
Child (2-14)
$479
Infant (0-2)
Not Reccomended (Please Call)
Duration:
1.5 Hours
Location:
Seward
Departure:
Seward Airport – Apline Air
Start Time:

9:00am

10:20am

11:40am

1:00pm

2:20pm

3:40pm

5:00pm

6:20pm

Dates:
May 31st – August 31st
Seward Alaska Glacier Dog Sledding Tour Info
Your tour starts from Seward Airport for a short, scenic flight to the dog sledding camp on a remote glacier. The mushers will greet you at the helicopter and introduce you to the friendly Alaskan Huskies. The sled dogs are trained by our partner, Seavey's Ididaride Kennel, owned by Mitch Seavey, a mushing legend and three-time Iditarod Champion. You'll hear interesting facts about the dogs and the mushing lifestyle, how they care for the huskies and train them to pull.
Next, you're on the sled for an exhilarating dog sled ride on the snow, surrounded by a gorgeous backdrop of glaciers and mountains. Stand on the runners and help drive the sled, or sit back and take in the views. Guests love meeting the affectionate dogs!
WHAT TO EXPECT:
Enjoy a complimentary shuttle from one of our many pickup locations in Seward. If you're driving, park your vehicle at our hangar at the Seward Airport. Please arrive 30-minutes before your scheduled tour time. At the hangar, you'll be outfitted for mushing with waterproof layers and over-boots, and take part in a short safety briefing before your flight.
You'll have a great view from every seat to enjoy the incredible scenery. Your experienced pilot will provide knowledgeable commentary during your journey. After the completion of your flight, our courtesy van will be waiting for a complimentary transfer to your destination in Seward.
MORE:
When we land on the glacier, the dogs know exactly what it means—it's time to run! They'll be bouncing and barking with joy because it's go-time! On the sled, you'll travel in a 1-kilometer loop, either at a gentle trot or a healthy clip, depending on snow conditions and the kind of experience you want. Tours are suitable for all ages. We go in all conditions, even rain. It can be cool up on the glacier, so dress in layers, and we can provide waterproof layers and over-boots for you. Also, don't forget your sunglasses, camera or GoPro!
OTHER IMPORTANT INFORMATION:
Free shuttle service available from many locations in the city of Seward.
Cancel up to 7 days before your tour for a full refund. Cancellations within 7 days are subject to a 50% cancellation fee. Cancellations within 24 hours are subject to a 100% cancellation fee.
If our staff cancels due to weather, no charges will apply and you will be refunded or rescheduled.
Max. 6 passengers. We can accommodate larger groups with advance notice (please call).
All tours require a 2 passenger minimum. Call us if you are traveling solo, we'll add you to an existing reservation.
Frequently Asked Questions
Book Your Seward Alaska Glacier Dog Sled Tour
Searching Availability...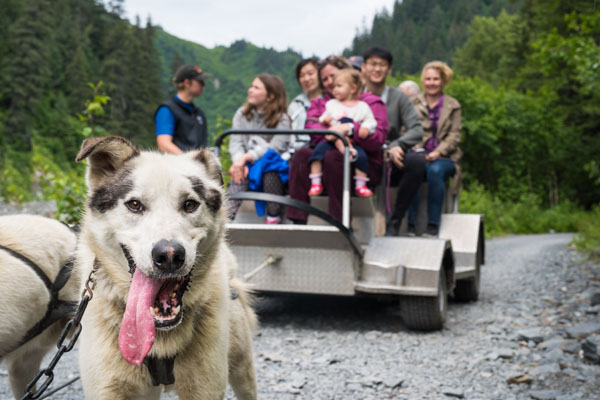 Wilderness Dog Sled Tour
Feel the power, excitement, and energy of our amazing sled dogs as they are harnessed to our comfortable wheeled sleds on this hour and a half dog sled tour.
Adult (13 +)
$99
Child (2-12)
$49.5
Infant (< 2)
Free
Duration:
1.5 Hours
Location:
Seward, Alaska
Departure:
Seavey Family Homestead, Exit Glacier Road
Start Time:

9:00am

11:45am

1:30pm

3:15pm

6:30pm

Dates:
May 9 – Mid September
Real Alaska Day Tour
Are you looking for the best Seward Alaska tours out there? Well, this tour is a great way to see Seward in a day, especially for those without transportation.
| | |
| --- | --- |
| Adult | $189 |
| Child (2-12) | $94.50 |
| Infant (0-2) | Free |
| Duration: | 6 Hours |
| Location: | Seward, Alaska |
| Departure: | IdidaRide Sled Dog Tour's Gift Shop |
| Start Time: | |
| Dates: | Late May – Mid September |