Alaska Glacier Dog Sled Tours
Ride a helicopter ride to an Alaska Glacier, where you will mush a dog sled team on snow, yes even in the summer time!
| | |
| --- | --- |
| Adult | $519 - $569 |
| Child (2-12) | $479 - $519 |
| Infant (0-2) | Please Call |
| Duration: | 1.5 Hours |
| Location: | Seward, Alaska or Girdwood, Alaska |
| Departure: | Seward Airport - Apline Air |
| Start Time: | Various Start Times (Unique to location) |
| Dates: | May 31st - August |
Alaska Glacier Dog Sledding Tours Info
Do your dreams of Alaska include a pure white wilderness and a team of huskies pulling you on a sled in the snow? You don't have to wait until winter for a dog sledding adventure. We'll fly you to a glacier snowfield and make your Alaska mushing dreams a reality in the summer, from mid-May through the end of August.
LOCATIONS NEAR ANCHORAGE AND SEWARD
Visiting Anchorage? We offer the closest glacier dog sledding tour to Anchorage from our Girdwood location, just 35 miles south of the city. After a short drive, you'll be in a helicopter on a beautiful flight to a remote glacier dog sledding camp. Our Seward location is just over two hours south of Anchorage by car, and is a popular port if you're visiting Alaska on a cruise ship. We offer free in-town transportation to our guests from anywhere in Girdwood and Seward.
ROOTS IN ALASKA DOG SLEDDING
The scenery is incredible on the quick flight, and once you arrive on the glacier you'll be greeted by your guides, mushers from Seavey's IdidaRide Sled Dog Tours, Iditarod finishers and a great source of information about the history of the sport. The Seavey family has a long history in Alaska and a legacy of mushing and multiple champions of the famous race. You'll love meeting the dogs, learning about mushing, and preparing for your ride on the sled. Imagine the photos and memories you'll take home from a day of dog sledding on an alpine snowfield. This is the Alaska experience you've been waiting for.
Frequently Asked Questions
Book Your Alaska Glacier Dog Sled Tour
Searching Availability...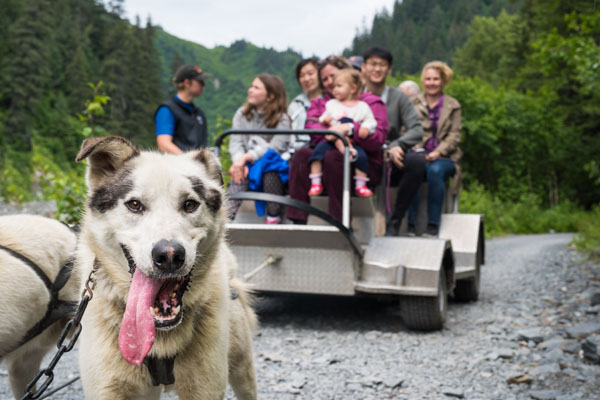 Wilderness Dog Sled Tour
Feel the power, excitement, and energy of our amazing sled dogs as they are harnessed to our comfortable wheeled sleds on this hour and a half dog sled tour.
Adult (13 +)
$99
Child (2-12)
$49.5
Infant (< 2)
Free
Duration:
1.5 Hours
Location:
Seward, Alaska
Departure:
Seavey Family Homestead, Exit Glacier Road
Start Time:

9:00am

11:45am

1:45pm

3:30pm

6:30pm

Dates:
Mid-May - Mid September
Real Alaska Day Tour
Are you looking for the best Seward Alaska tours out there? Well, this tour is a great way to see Seward in a day, especially for those without transportation.
| | |
| --- | --- |
| Adult | $169 |
| Child (2-12) | $89 |
| Infant (0-2) | Free |
| Duration: | 6 Hours |
| Location: | Seward, Alaska |
| Departure: | IdidaRide Sled Dog Tour's Gift Shop |
| Start Time: | |
| Dates: | Late May - Mid September |