Girdwood Alaska Glacier Dog Sled Tour
The only way to dogsled on snow in the summer! Fly by helicopter to a remote mountain glacier, where our Iditarod champion dogs spend the summer training on snow. Meet the dogs, play with the puppies, and go for a dogsled ride around the glacier.
Adult
$569
Child (2-14)
$519
Infant (0-2)
No Charge
Duration 2 hrs:
1:45 on glacier + 15 minutes flying
Location:
Girdwood, Alaska
Ability Level:
Moderate
Start Times:

8:30am

10:15am

12:00pm

1:40pm

3:30pm

5:15pm

Dates:
May - August
Girdwood Alaska Glacier Dog Sledding Tour Info
Highlights: Fly in a Helicopter * Land on a Glacier * Mush an Iditarod Champion Dog Team * Cuddle Adorable Husky Puppies
There is only snow on the ground in Alaska from November to April, so we have to get adventurous to mush on sleds during the summer. This tour begins at the Girdwood Airport, where Alpine Air's experienced staff will help you get dressed up for winter and you'll meet your pilot. They fly Robinson 44 helicopters, and everyone has a window seat for the flight. It feels like you're entering another world as you take off during summer at sea level, fly over the Chugach National Forest, climb 3200 feet through the Pass and top out on Punchbowl Glacier and land in winter in the mountains.
Dog Camp is actually on the icefield above the glacier, so it's white snowy world with towering mountain peaks. 32 of Iditarod Champion Mitch Seavey's elite sled dogs and a hearty staff of 4 'mushers' or dog trainers live in this remote environment with no cell phones or running water for months on end, and they're happy for company!
You'll meet the dogs, who despite being world class athletes still like their ears scratched, learn what it takes to complete and win the 1000 mile Iditarod Trail Sled Dog Race, play with the puppies, and then watch the dogs excitement and enthusiasm as they're hitched to the sleds. Your guide will tailor your experience to your ability level: you can ride, drive with help, or drive on your own as we mush around the glacier, with plenty of stops for photos.
Then enjoy a mug of hot chocolate or cider and compare stories while you wait for the helicopter to take you back to earth. This is one of those bucket list trips that will make your vacation truly amazing.
Book Your Girdwood Alaska Glacier Dog Sled Tour
Searching Availability...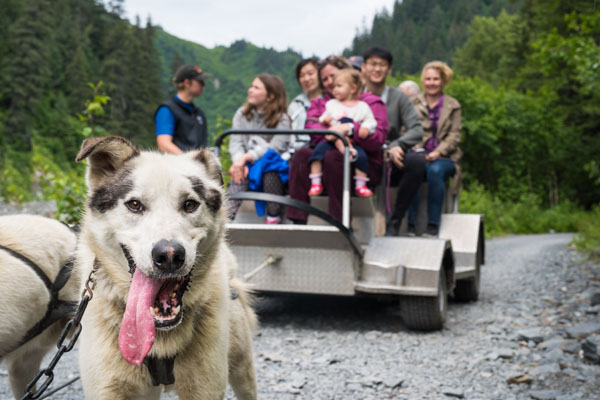 Wilderness Dog Sled Tour
Feel the power, excitement, and energy of our amazing sled dogs as they are harnessed to our comfortable wheeled sleds on this hour and a half dog sled tour.
Adult (13 +)
$99
Child (2-12)
$49.5
Infant (< 2)
Free
Duration:
1.5 Hours
Location:
Seward, Alaska
Departure:
Seavey Family Homestead, Exit Glacier Road
Start Time:

9:00am

11:45am

1:45pm

3:30pm

6:30pm

Dates:
May 9 - Mid September
Real Alaska Day Tour
Are you looking for the best Seward Alaska tours out there? Well, this tour is a great way to see Seward in a day, especially for those without transportation.
| | |
| --- | --- |
| Adult | $169 |
| Child (2-12) | $89 |
| Infant (0-2) | Free |
| Duration: | 6 Hours |
| Location: | Seward, Alaska |
| Departure: | IdidaRide Sled Dog Tour's Gift Shop |
| Start Time: | |
| Dates: | Late May - Mid September |