Girdwood Alaska Glacier Dog Sled Tour
Ride a helicopter ride to Punchbowl Glacier, where you will land on the glacier and mush a dog sled on snow, yes even in the summer time!
Adult
$549
Child (2-14)
$499
Infant (0-2)
Please Call
Duration:
1.75 Hours
Location:
Girdwood, Alaska
Departure:
Apline Air
Start Time:

8:30am

10:15am

12:00pm

1:40pm

3:30pm

5:15pm

Dates:
May - August
Girdwood Alaska Glacier Dog Sledding Tour Info
This Alaskan adventure is hard to top! Take this exciting opportunity to learn about the dedicated dog sled teams of Alaskan Huskies. Enjoy a spectacular helicopter ride into the majestic Chugach Mountains and onto Punch Bowl Glacier, 3200 feet above sea level. Punch Bowl is a giant snowfield on top of hundreds of feet of ice. Learn how the dogs are bred, see how they are trained to pull the sled, and learn how they have everlasting endurance. Relax and enjoy the view as you ride on the sled around the glacier enjoying the scenic peaks and valleys surrounding you. The dogs possess an inherent drive to run, and if you pull on the brakes, it's still hard to hold them back.
This is a trip you will NEVER forget, and most visitors say it was the highlight of their Alaskan vacation!!
Dog Sledding with Alaskan Huskies is such a large part of Alaskan life and history, the Iditarod Trail started out as a mail and supply route from the towns of Seward and Knik to the interior. Part of the Iditarod trail was used as a life saving highway for epidemic stricken Nome, where sled dogs were used to deliver Serum in 1925 to cure Diphtheria. It is now the famous "Last Great Race on Earth" where dogs, sleds and their mushers leave from Anchorage racing to Nome. Each musher with their team of 12-16 dogs endure a journey of 1150 miles in 8-15 days. For further information please see the following website: http://www.iditarod.com
If you have never followed this race before, after experiencing this tour, we know you will be in awe of this great race and sport!
PLEASE make sure your camera battery is full!
Please dress in layers, expect temperatures on the glacier to be from 45°- 60°.
Wear warm comfortable layered clothing, sturdy shoes, and sunglasses.
We will provide you with a water-resistant outer layer and Neos over-boots worn over your shoes to keep them dry.
Frequently Asked Questions
Book Your Girdwood Alaska Glacier Dog Sled Tour
Searching Availability...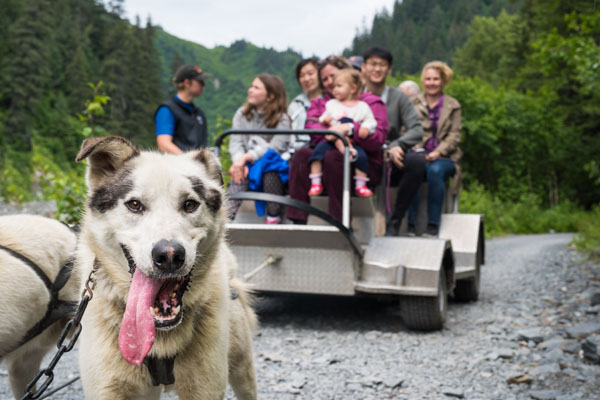 Wilderness Dog Sled Tour
Feel the power, excitement, and energy of our amazing sled dogs as they are harnessed to our comfortable wheeled sleds on this hour and a half dog sled tour.
Adult
$99
Child (2-12)
$49.5
Infant (0-2)
Free
Duration:
1.5 Hours
Location:
Seward, Alaska
Departure:
Seavey Family Homestead, Exit Glacier Road
Start Time:

9:00am

11:45am

1:45pm

3:30pm

6:30pm

Dates:
Mid-May - Mid September
Real Alaska Day Tour
Are you looking for the best Seward Alaska tours out there? Well, this tour is a great way to see Seward in a day, especially for those without transportation.
| | |
| --- | --- |
| Adult | $169 |
| Child (2-12) | $89 |
| Infant (0-2) | Free |
| Duration: | 6 Hours |
| Location: | Seward, Alaska |
| Departure: | IdidaRide Sled Dog Tour's Gift Shop |
| Start Time: | |
| Dates: | Late May - Mid September |